Tablesaw
r
i
v
e
r

r
i
g
h
t

upstream downstream
r
i
v
e
r

l
e
f
t


Straightforward. Rafters catch the big hole at the top fairly far left, point left and power over the two diagonal standing waves that try to push you right. Hard-boaters eddy hop down it (How many can you catch? There's 8 or 9 distinct hops.)




The main thing to worry about is a rock called either "Launching Pad" or "Prudential" (depending on whether you hit it real hard, or just get a piece of it) at the bottom. The river tries to funnel you right and it is a nasty stick/pin in any boat. Further compounding the hazard is that there's a sink-hole that goes down through the rock and comes out way under water on the downstream side, and is large enough to fit a person through if they're not wearing a life-jacket.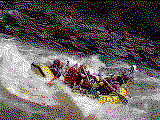 One commercial rafter got stuck in in it face down, and if it hadn't been for a couple of guides lying out on the rocks smoking a jay would have died. Who says drugs kill?
Local redneck types have been known to, when the river is down, swim down through this hole and out the bottom. Not my kink, and I highly recommend against it. Note particularly on sunny days the boulder bunnies (of both sexes) who inhabit the river right hand side.
Eddy left for a breather, the rocks are also a good place to set safety.
previous : Surprise next : Diamond Splitter

---
I love to hear from my readers, but I get a lot of mail. If you're writing to set up a rafting or other outdoor adventure trip in the southeast Tennessee area, contact the folks at OAR , my favorite outfitters.

This is a part of the Virtual Ocoee pages of Dan's Whitewater collection in the home pages of Dan Lyke , reachable at danlyke@flutterby.com