Due to excessive server load and DDOS attacks, this list may be truncated.
Entry: 2020-07-13 16:05:45.785734+00 Confronting Colonialism and Genocide by Dan Lyke comments 0
Native America: A History — Confronting Colonialism and Genocide in Father Serra's Town
Three of the four middle schools in the Ventura Unified School District–Balboa, DeAnza, and Cabrillo–are named after Spanish explorers of the Pacific. The "Serra Cross" stands above the city in a small park that still bears the scars of the horrifying fires of late 2018. An inscription reads that the cross was "restored September 9, 1912, by the Alice Bartlett Club of San Buenaventura . . . to take the place of the mission cross erected on this spot by Franciscan Missionary Padre Junipero Serra, 1782." Another plaque, placed on the same spot in 1982, commemorates the life of Serra "who closed the labor of his useful life with the founding of the Mission" two hundred years before. That mission still stands below the cross, down a winding and twisted road.
[ related topics: Children and growing up Bay Area California Culture Pop Culture Archival ]
Entry: 2020-07-04 03:30:08.545278+00 I'm swapping out the living room fan by Dan Lyke comments 2
I'm swapping out the living room fan for some serious lights, figured I was safe turning off at the switch because I wired the house and knew my hot and neutral were consistent, forgetting that the fan controller had an always-hot. Anyway, the breaker works.
[ related topics: Bay Area Real Estate ]
Entry: 2020-06-24 01:12:52.041576+00 To CalEITC4Me by Dan Lyke comments 0
June 23, 2020
CalEITC4Me
345 California Street, #600
San Francisco, CA 94104
Good people at Cal EITC 4 Me:
I am not a likely user of your services, but if I may, a little feedback:
Despite responding "STOP", I have gotten an unreasonable number of SMS spam messages with the content:
"Hello, this is [name] with CalETIC4Me. We are reminding people that there still(sic) time to file your taxes online for FREE! You could get CASH back with the Earned Income Tax Credit. More info here: www.caleitc4me.org/ftp"
The .org rather than .gov domain name, and the copied typo, along with the numerous messages from different senders, make this appear to be a scam message. I had to do some extensive Google searching to convince myself that the site was legitimate.
I am not eligible for this service. Whoever sold you your phone list did extremely bad filtering.
And this is annoying enough that I, and Gen Xer who grew up on BBSes and the Internet, actually dug out paper to send you a physical message begging you to please, as a matter of policy, do better. At best, you're encouraging lower-income people to expect scammy messages to be worth pursuing. At worst, you're annoying a whole lot of voters.
Dan Lyke
[ related topics: Interactive Drama Politics Spam Bay Area moron Monty Python California Culture Net Culture Government ]
Entry: 2020-06-12 00:08:00.785833+00 Boogaloo instigator by Dan Lyke comments 2
That Air Force MP who was killing law enforcement apparently had "Boogaloo" leanings: Suspect in Santa Cruz ambush linked to federal officer killing in Oakland; charged with 19 felonies
[ related topics: Bay Area Law Enforcement ]
Entry: 2020-06-06 15:15:00.821307+00 Helping the Protests by Dan Lyke comments 0
My Dad served in US Army Military Intelligence for 6 years. ROTC helped pay for his college, and when his 4 years were over he upped for another 2, and likely would have re-upped again, except that a stint in Vietnam was a surety at that point. Monitoring the Soviets was a cause he could believe in. But he also worked in military/defense adjacent stuff for another couple of years.
Two decades or so later, around 1990, '91, when George Bush was making up reasons to invade Iraq (the first time), he expressed regret, not so much at his military service, but because he did so at a time when the country was exploding in protest, and he'd been solidly inside the establishment, rather than on the streets working to overthrow the horrors and injustices of America of the 1960s.
The other day, someone on Twitter tagged me in a search for mentors of people of color in the software business. And I was like "yeah, I'm happy to help, but I've worked with basically the same small group of people or their friends since coming to California", and then I realized "oh, that's exclusionary as hell and part of the problem, isn't it?"
So as I see the world around me explode (and I've been aware of some of the injustices since my long-haired hippy days), I'm wondering how I can best effect change. Marching in a protest in my town seems twee, a bunch of white people on wide sidewalks in a very white town where the police may be casually racist (I've heard some reports) but know who pays their bills doesn't feel super effective.
Charlene and I watched Selma last night, and talked a little bit about what we might to do help.
I could Sharpie a lawyer's phone number on my wrist and bus down to Oakland or SF, and I'm trying to figure out how I feel about that.
Anyway, we've upped our donations to various organizations that work on these sorts of issues, and bought (take-out) dinner last night from a restaurant that announced that as the mid-way between the park where the Petaluma protests start and the police station, they were happy to provide water and snacks.
[ related topics: Politics Movies Food Bay Area Software Engineering Law Work, productivity and environment Law Enforcement Civil Liberties California Culture Education Race Public Transportation ]
Entry: 2020-05-14 17:01:16.731303+00 Inflatable E-Bike by Dan Lyke comments 0
Via the ever awesome Tara over at ResearchBuzz: Inflatable E-Bike Fits in a Backpack
The trend towards communal sidewalk-based personal mobility systems (like shared bikes and scooters) has resulted in some amount of actual personal mobility, but also a lot of cluttered sidewalks, injured riders and pedestrians, and questionable business models. Fortunately, there are other solutions to the last-kilometer problem that are less dangerous and annoying, like this prototype for an inflatable e-bike under development at the University of Tokyo. From a package of folded-up fabric that fits in a backpack, Poimo (POrtable and Inflatable MObility) can be quickly inflated with a small pump into a comfortable and intrinsically safe mobility system that can be deflated again and packed away once you get where you're going.
INT032: Soft yet Strong Inflatable Structures for a Foldable and Portable Mobility (YouTube video)
[ related topics: Movies Bay Area Education Video Bicycling Model Building ]
Entry: 2020-05-11 22:18:28.199191+00 CBD & Covid-19 by Dan Lyke comments 0
Well, some of you are safe: Cannabis shows promise blocking coronavirus infection: Alberta researcher
"It will take a long time to find what the active ingredient is — there may be many," said Kovalchuk, whose Pathway RX is owned partly by Olds-based licensed cannabis producer Sundial Growers and partnered with Alberta cannabis researcher Swysh.

But it's generally the anti-inflammatory properties of high-CBD content that have shown most promise, he added.
[ related topics: Bay Area Television ]
Entry: 2020-05-04 15:28:46.232144+00 Influential video games Day 10: Counter-Strike by Dan Lyke comments 1
Influential Video Games, Day 10: Counter-Strike
I played Castle Wolfenstein 3d (I also played the original Castle Wolfenstein back in the ྌs, but you kids are too young to appreciate actual spoken German played through the Apple ][ speaker). I played Doom. I never got into multi-player Doom, both because of life circumstance, and because it looked like just a lot of building reflexes. At that point in my life I had a bunch of real-life reflexes and didn't feel the need to build ones for virtual worlds.
2000 came along, and a group of people created a mod for the Half-Life 1 engine to create a multi-player game that felt different: Several of the weapons killed in one or two shots. The game play had objectives that encouraged stealth over run-and-gun. "Camping" was built in to the game, but balanced by objectives and time limits.
If I remember right, there were 3 basic scenarios, all 2 teams:
Rescue the hostages from the terrorists, hostages were stupid NPCs that would follow you if you told them to, and there were costs for shooting hostages, but if you were on the bad guy team using the hostages as cover to get the good guys to shoot them was totally on-point, but generally the goal was to keep the hostages secure for the length of the round.
Bomb a site. Usually there were two bomb sites on the map. There was an advantage to surviving the round, so there was strategy in setting the bomb, protecting the bomb site from the counter-terrorists, and then escaping alive before the bomb detonated.
Protect the VIP. One player on the counter-terrorist team is designated the VIP and only gets a pistol (but gets extra armor), the goal is to move this player across the map.
It spread quickly through the 30-somethings of that era. We had a consulting company over in El Cerrito, and lunch often involved a few rounds.
Charlene had worked as a nanny for many years, and she'd... well... long story, but on Friday evenings I'd load up a car full of teenagers in the San Geronimo valley, and we'd head over to the offices in El Cerrito and play multi-user video games into the early hours of Saturday morning, and Counter-Strike was one of my favorites.
[ related topics: Apple Computer Children and growing up Interactive Drama Games Bay Area Graphics Heinlein Automobiles Machinery Guns Maps and Mapping Video hubris ]
Entry: 2020-04-16 17:14:33.924483+00 Pandemic as McKinsey plan by Dan Lyke comments 0
Since every McKinsey plan is "lay off 75% of your workforce and sell off the assets to rich people," I'd say the pandemic is already a McKinsey plan in action.
Quoting Carl Quintanilla @carlquintanilla
REUTERS: Cuomo hires @McKinsey "to develop a science-based plan for the safe economic reopening of the region that can thwart expected pressure from President Donald Trump to move more rapidly .."
https://www.reuters.com/articl...usa-governors-excl-idUSKCN21Y01V
Most amusing are the replies from outraged management consultants trying (unsuccessfully) to refute this assertion.
[ related topics: Health Bay Area Economics ]
Entry: 2020-04-14 17:42:18.812679+00 Air pollution and distancing by Dan Lyke comments 0
So in the months ahead, as we start to unroll all of the social changes we've made to slow the spread of COVID-19, we should look at all the lives we've saved through other means and figure out how we can rebuild our daily living in ways that don't mean four million premature deaths around the world annually.
Things like reducing automobile capacity and dedicating those streets back over to bicycle and pedestrian traffic, in the ways that Oakland is doing, have the ability to hugely improve quality of life, and reduce imposed externalities.
Air quality improves by up to 40 per cent in cities that took action on COVID-19, University of Toronto researcher finds
Marc Cadotte, a professor in the department of biological sciences at U of T Scarborough, looked at the air quality index (AQI) for six COVID-19-affected cities (Wuhan, Hong Kong, Kyoto, Milan, Seoul and Shanghai) that implemented emergency measures in February. He then compared the AQI for those cities to the same month in 2019, finding that all six showed a significant reduction in air pollution concentrations this year.
[ related topics: Bay Area Current Events Automobiles Education Pedal Power Hong Kong Bicycling ]
Entry: 2020-03-15 16:28:26.676961+00 COVID-19 of the morning by Dan Lyke comments 1
Since it seems like we're gonna have some issues with ventilator capacity, from January of 1952: Do It Yourself Iron Lung
Community transmission is happening:
Marin hits 'new stage': Coronavirus infections in community, two cases of community transmission.
Press Conference to Discuss First Case of Community Spread of Coronavirus in Sonoma County
The County of Sonoma invites interested media to attend a press conference, where officials will answer questions about the first case of community spread of the novel coronavirus (COVID-19) in Sonoma County and about the local health emergency response.
[emphasis mine]
Ways to participate in the global economy (and misunderstand economics): Reuters: Germany tries to stop US from luring away firm seeking coronavirus vaccine
Welt am Sonntag also quoted an unidentified German government source as saying Trump was trying to secure the scientists' work exclusively, and would do anything to get a vaccine for the United States, "but only for the United States."
Via this tweet, which claimed some more confirmation of the exclusivity demands which I don't see in the article.
[ related topics: Quotes Photography Weblogs Health Invention and Design Bay Area moron Law Journalism and Media Work, productivity and environment Community Conferences Economics ]
Entry: 2020-03-10 21:30:06.677177+00 Have to admit that as an SF Bay Area by Dan Lyke comments 0
Have to admit that as an SF Bay Area homeowner, I'm super nervous about this impetus to cause us all to set up remote work processes. If we lose the geographic advantage that face-to-face contact gives us in this economy...
[ related topics: Interactive Drama Bay Area Work, productivity and environment California Culture Economics ]
Entry: 2020-02-29 17:31:03.566318+00 Parasite and Last Black Man in San Francisco by Dan Lyke comments 0
Two movies recently that have snuck up on me. We watched "Parasite", came home and read a bunch of stuff on the movie from a Korean perspective, and said "oh, that's what that was about". Which was fine, but last night we watched "Last Black Man in San Francisco". What a gorgeous movie. Even as I was trying to figure out what the film was about, I was rapt by the love letter to the city, and the delicate exploration of the contrast of what SF was when I moved here in the 90s vs what it is now (and what it was in the 1890s vs what it is now).
It's about the lies we tell ourselves about our heritage, and how we put our love into a place that's not really "ours", and what happens when that place becomes something that doesn't have a space for us.
It's slow-paced, beautiful, has layers of meaning that as a white guy who's been living in Marin and Sonoma for decades I can't parse, but has enough that I could connect with that I was enthralled.
[ related topics: Movies Bay Area Space & Astronomy California Culture Race ]
Entry: 2020-02-27 18:10:10.7636+00 Jean analysis by Dan Lyke comments 0
A Key FBI Photo Analysis Method Has Serious Flaws, Study Says
After ProPublica's reporting last year, scientists at UC Berkeley tested one of the FBI Lab's photo analysis techniques, identifying bluejeans by the pattern on their seams, and found flaws that challenge the method's reliability.
[ related topics: Photography Bay Area Law Enforcement ]
Entry: 2020-02-25 19:01:50.544398+00 Sofa Bed by Dan Lyke comments 0
Shadow writes:
Well, that's a different take on a sofa bed...
https://i.imgur.com/W7hPUJ8.gifv
Super cool fold up from a sofa into a bunkbed.
[ related topics: Bay Area Furniture ]
Entry: 2020-02-11 21:35:04.590533+00 Ghost Kitchens by Dan Lyke comments 0
More Than 20 'Ghost Kitchens' Are Operating Out Of This Dump In South Of Market.
A reader sent us this photo of a ghost kitchen in the Mission, where six 'delivery-only' kitchens are operating out of one location. The New York Times described another ghost kitchen at the old Discolandia location on 24th Street, funded by Uber Eats, a venture that TechCrunch describes as "essentially WeWork for restaurant kitchens." (so you know that's gonna end well). Last week the Chronicle found a ghost kitchen operating several restaurants out of "a long white trailer occupying four parking spots" beneath a highway overpass. When you order food on GrubHub or Uber Eats, you may not realize that you are not ordering from a real established restaurant, but from a warehouse, and with a business name and listing that is more or less catfishing you with fake photos on their interior or offerings.

Sometimes these ghost kitchens completely steal an established restaurant's identity to market themselves as the real thing. SFist recently discovered a fake version of Michelin-starred Kin Khao listed on both GrubHub and Seamless.
[ related topics: Photography Invention and Design Food Bay Area Work, productivity and environment New York Race Gambling Economics ]
Entry: 2020-02-01 16:35:09.844151+00 California doesn't have the cheap real by Dan Lyke comments 0
California doesn't have the cheap real estate to support used book stores. I'm in Ohio, and am kind of shocked to see how many SF authors I associate with the '80s overall the shelves.
[ related topics: Books Bay Area California Culture Real Estate ]
Entry: 2020-01-21 18:24:59.398276+00 Furries make the world better by Dan Lyke comments 0
San Jose: 'Furries' pulled assaulter out of vehicle, sat on him
A group of furry bystanders stepped in when they saw man 'whaling on' female driver
[ related topics: Bay Area Woodworking ]
Entry: 2020-01-02 17:04:19.516508+00 Rust and low level timing specific code by Dan Lyke comments 0
All right, I've gotta learn Rust: Rewriting m4vgalib in Rust:
Now, given my feelings about C++, I want to see how far I can push Rust — specifically, safe Rust. See, despite having written C++ as my day job for many years, I'm aware that most of the common security/reliability bugs we see in software today are a result of flaws in the C and C++ languages. Rust fixes essentially all of these flaws. So I've been keeping an eye on it for a while. More reliable software with less work? Yes please.
[ related topics: Weblogs Bay Area Software Engineering Work, productivity and environment Heinlein ]
Entry: 2019-11-27 20:25:06.157984+00 Shoutout to the dude in the mobility by Dan Lyke comments 0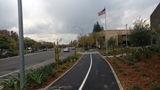 Shout-out to the dude in the mobility scooter who recognized the dangerous design of this MUP and took the lane with the cars. When we talk about making environments safe for the elderly and disabled, this ain't it.
[ related topics: Photography Bay Area Graphic Design Handicaps & Disabilities ]
Entry: 2019-11-13 00:37:02.743106+00 Affordable Housing in SF by Dan Lyke comments 0
98-Year-Old Man Fulfills Mother's Dying Wish To Turn Her SF Property Into Affordable Housing
When San Francisco artist, scientist, and activist Maria "Mitzi" Kolisch died in 1987, she was in the process of trying to turn her humble cottage property in Diamond Heights into housing for low-income adolescents who had aged out of the foster-care system. 32 years later, her son — now 98 years old himself — has finally succeeded in redeveloping her property into eight affordable family townhouses with the help of Habitat for Humanity.
[ related topics: Bay Area Sociology Art & Culture California Culture Real Estate ]
Entry: 2019-10-11 22:20:34.073829+00 12 minutes by Dan Lyke comments 1
A number of people have been posting this story as indication of some sort of malfeasance by PG&E. I'm not gonna defend PG&E, but this is a failure of social services, or the medical system, not PG&E. Here in relatively dense Petaluma we had an 18 hour outage because someone missed the curve at Mountain View and Fairview (the one in the middle of https://goo.gl/maps/VVxmYsqJQ43gc5kb6 with the white rocks and the reflectors) and took out the power pole. I realize California doesn't have much in the way of thunderstorms, but they occur, and when I lived in Chattanooga we lost power regularly because of such things.
Yes, 4 or 5 days without power is a thing (although when we lived in Lagunitas, within an hour of San Francisco, that wasn't that unusual.
If you're 12 minutes of power failure away from death, in freakin' Pollock Pines California, that's not the fault of the power company.
Northern California man found dead 12 minutes after PG&E power shutoff, fire district says
[ related topics: Interactive Drama Bay Area Current Events California Culture Chattanooga Pyrotechnics Maps and Mapping Race ]
Entry: 2019-10-11 21:27:22.617793+00 SFPD assaulted cyclist by Dan Lyke comments 0
SFPD officer accused of lying under oath after severely beating bicyclist in SF's Mission
Officers celebrated with 'high-fives' and 'fist-bumps' after beating man who rode bike on sidewalk, per witness testimony — and body camera footage
[ related topics: Photography Bay Area Bicycling ]
Entry: 2019-10-09 16:18:12.106387+00 porpoiseful tuna by Dan Lyke comments 0
Consumers sue Bumble Bee, Chicken of the Sea, StarKist over 'dolphin-safe' tuna claims.
What's most surprising to me about this (another friend who's reading legal briefs on this has passed along) is that there are actually legit brands:
"Several tuna companies use traditional pole-and-line and trolling methods of catching tuna. These products include Safe Catch, Ocean Naturals (for its Albacore tuna), and Wild Planet, which are caught using pole-and-line and trolling, and American Tuna, Whole Foods 365 Everyday Value brand (for its skipjack and albacore tuna), and Trader Joe's (for its yellowfin tuna), which are caught using exclusively pole-and-line."
https://www.dolphin-safe-tuna-lawsuits.com/case-information/
[ related topics: Food Bay Area Space & Astronomy Law Current Events Consumerism and advertising Birds ]
Entry: 2019-09-26 16:11:31.635296+00 Flying to CA for arson by Dan Lyke comments 0
You know what? Fuck it, maybe it is time to build a wall to keep [checks notes] people from flyover country out of California: Missouri man charged with flying to Bay Area and setting Milpitas grass fires
Arson suspect Freddie Graham, 68, was arrested while dropping off rental car at San Jose airport on his way out of town, investigators say
[ related topics: Aviation Bay Area California Culture Automobiles ]
Entry: 2019-09-05 07:01:57.380882+00 AAA is a terrorist organization by Dan Lyke comments 0
I have seen a number of responses to the San Francisco just passed a resolution calling the NRA a 'domestic terrorist organization' story that are along the lines of "well, should we blame AAA for automobile related deaths?" And I was like "if you look at AAA's lobbying efforts, maybe we should", but then right below a link to this someone linked to this article: Deaths From Red Light Running At A 10-Year High, AAA Study Finds, a AAA spokesman saying "Drivers distracted on their phones, pedestrians distracted when crossing intersections, are all reasonable contributing causes to what we see the data telling us".
Pedestrians distracted on their phones. Yes, Mr Jake Nelson, let's go to the data: From the New York City Department of Transportion's look at distraction and collisions, http://home.nyc.gov/html/dot/d...straction-shouldnt-be-deadly.pdf :
"According to the last six years of available national data, fatalities involving the use of portable electronic devices by pedestrians ranged from one to twelve per year, representing 0% to 0.2% of pedestrian traffic fatalities".
And just wait 'til you see the numbers on how many fatalities were due to motorists not yielding the right of way to pedestrians.
So, yes: the data suggest that AAA is a terrorist organization.
[ related topics: Interactive Drama Politics Invention and Design Bay Area California Culture Sports Automobiles New York ]
Entry: 2019-08-05 23:30:08.232468+00 Square Dancers by Dan Lyke comments 0
Square Dancers: This Friday August 9th, Kurt Gollhardt and I are trading Plus & Mainstream tips at the Oaktown 8s/Elks & Does Second Friday dance. Come mess with us! 7:30-10PM at the Lake Merritt Dance Center, 200 Grand Ave, Oakland CA
[ related topics: Bay Area Heinlein ]
Entry: 2019-06-25 20:35:32.072465+00 Screaming Queens by Dan Lyke comments 0
The Night That Trans Women Rioted for Their Rights at a Tenderloin Cafeteria:
Screening on KQED Saturday, July 23, Screaming Queens: The Riot at Compton's Cafeteria has a particular resonance now, 50 years after the event that inspired its making, as the need for queer safe spaces becomes a subject of focus once again.
[ related topics: Technology and Culture Bay Area Television Civil Liberties ]
Entry: 2019-06-15 07:25:09.143549+00 Effects of Rent Control by Dan Lyke comments 2
Fantastic Twitter thread on The Effects Of Rent Control Expansion on Tenants, Landlords, and Inequality: Evidence from San Francisco, Rebecca Diamond, Timothy McQuade, Franklin Qian (2017).
Reduction in rental inventory, reduced mobility for established renters, all the usual problems.
[ related topics: Bay Area California Culture ]
Entry: 2019-06-05 22:31:10.759647+00 Oakland decriminalizes hallucinogens by Dan Lyke comments 0
Oakland Votes Unanimously to Decriminalize Psychoactive Plants Like Ayahuasca, Peyote and Hallucinogenic Mushrooms
[ related topics: Bay Area Gardening ]
Entry: 2019-05-24 16:13:37.030113+00 NTSB & rail safety by Dan Lyke comments 0
The NTSB Wants American Trains to Be Less Safe:
In 2017, an Amtrak Cascades train derailed outside Seattle. The train driver sped on a curve and the heavy locomotive derailed, dragging the trains with it, as had happened in 2013 in New York and in 2015 in Philadelphia. The primary culprit was the tardy installation of automatic train protection ("positive train control"), which would have prevented overspeed: the Philadelphia accident happened shortly before that section of track was scheduled to get PTC, the New York accident happened on a line with weaker protection against running red signals but not against overspeed, and the Seattle accident happened on a line not-yet equipped with PTC but with ongoing installation.
[ related topics: Invention and Design Bay Area Sports Machinery Trains New York Seattle Public Transportation ]
Entry: 2019-05-11 16:14:34.309326+00 Square Dancing vs Jazzercise by Dan Lyke comments 0
I love (modern (western)) square dancing. I love that it combines a mental workout with some brisk walking. I appreciate the square dancers who dance to my music. But I just found out that Jazzercise was founded in 1969, CALLERLAB started to come together circa 1971.
They are, admittedly, slightly different things, but Jazzercise has 228 corporate staff, over 8,300 franchisees, and some of those franchisees are doing well enough to be able to live in the SF North Bay on 6 classes a week.
I thought about this as I cashed a check in the double-digits for a two and a half hour dance I called for which I had to allow 3 hours of drive time...
[ related topics: Music Bay Area Theater & Plays California Culture ]
Entry: 2019-04-08 19:25:05.408457+00 QOTD Mandy J Pants Decided I'm by Dan Lyke comments 0
QOTD, Mandy J Pants: "Decided I'm going to write a safe-sex instructional manual for the BDSM & kink community.
"Working title: Beat, Play, Glove."
[ related topics: Quotes Erotic Sexual Culture Bay Area Work, productivity and environment Community Clothing ]
Entry: 2019-04-06 15:15:00.73458+00 Links from Shadow by Dan Lyke comments 1
Catching up on older email, a bunch of links from Shadow. I don't think any of these are repeats:
Fancy browser developer tools are great and all, but border: 1px solid red; has helped me figure things out more often than I can remember.
[ related topics: Games Movies virus Nature and environment Food Bay Area Software Engineering Writing Artificial Intelligence Race Video Bicycling ]
Entry: 2019-03-23 16:07:30.011787+00 Framed by Dan Lyke comments 0
San Francisco To Pay $13.1 Million To Man Framed By Police For Murder
He sued in January 2016. In April of last year, a jury in Oakland found that two police officers on the case, Maureen D'Amico and Michael Johnson, deliberately fabricated evidence and failed to disclose exculpatory material.
[ related topics: Bay Area Law Law Enforcement California Culture ]
Entry: 2019-03-14 21:12:26.415316+00 63Red Safe by Dan Lyke comments 0
"Yelp, but for MAGA" turns red over security disclosure, threatens researcher: 63Red Safe app—a "Green Book" for conservatives—left APIs exposed.
The thread: https://twitter.com/fs0c131y/status/1105260936305274880
[ related topics: Books Bay Area ]
Entry: 2019-03-13 15:36:38.007705+00 College good for your career by Dan Lyke comments 0
Man accused of local bank robberies was neuroscientist with Ph.D.
[ related topics: Bay Area Current Events ]
Entry: 2019-03-02 17:27:39.293149+00 Seed by Dan Lyke comments 0
Shadow forwarded along Seed, a dramatic web comic. I'm hooked. Damn it.
[ related topics: Bay Area ]
Entry: 2019-02-14 22:01:48.938056+00 Northern California Winter by Dan Lyke comments 0
So on Monday, some of the office conversation revolved around a garage remodel in my boss's neighborhood which seemed excessively robust, involving various upgrades to the support and bracing. I commented that it had been a couple of years, but I remember when we had a wet rainy winter and there were houses in southern Marin sliding off houses, and if I was rebuilding a garage in his neighborhood I'd want it pretty darned beefy.
Anyway, this is a block or so up from his house. We're having a real actual California winter here. Marin storm havoc: Sausalito mudslide, broad flooding, outages.
I'm not sure it's possible to build a structure that beefy, however.
My drive over to Novato on Monday to call may be interesting: Levee breached near Highway 37 in Novato as rains pound North Bay
[ related topics: Interactive Drama Bay Area California Culture Real Estate Sausalito ]
Entry: 2019-02-12 21:49:33.175718+00 NIMBY makes way by Dan Lyke comments 2
Art space NIMBY's last days in Oakland: Arts incubator makes way for pot grow . Sooooo... our land use policies make it reasonable for the art space to relocate to rural Lassen county to make way for agriculture in downtown Oakland?
[ related topics: Bay Area Space & Astronomy Art & Culture Real Estate ]
---
Connectivity provided by highertech.net , awesome bandwidth, well away from fault lines and other potential for natural disasters, reliable, and run by cool people.

Questions, comments, flames: contact Dan Lyke

Flutterby™ is a trademark claimed by

Dan Lyke for the web publications at www.flutterby.com and www.flutterby.net.